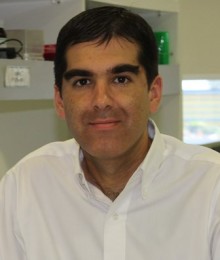 Mario Fernández
Médico Cirujano, P. U. Católica de Chile. Residencia de Urología, U. de Chile. Doctoris Medicinae, University of Heidelberg, Germany. Thesis grade: magna cum . Visiting Scientist, Department of Urology and Epidemiology,The University of Texas, MD Anderson Cancer Center (USA).
Líneas de investigación: Cáncer de vejiga.
Intereses:
Soy urólogo clínico con formación y activo trabajo en investigación; mis principales áreas de interés son la susceptibilidad genética, epidemiología, carcinogenésis y factores pronósticos clínicos y moleculares del cáncer urotelial de vejiga y urotelio alto en nuestro país y en cooperación con centros de Alemania y EEUU.
Interests: 
I am a clinical urologist with training and active work in research; my main areas of interest are genetic susceptibility, epidemiology, carcinogenesis and clinical and molecular prognostic factors of urothelial bladder cancer and high urothelium in our country and in cooperation with centres of Germany and the United States.
Proyectos:
Investigador principal
 "Genetic variants related to presence of bladder urothelial carcinoma in a high-risk, arsenic-exposed population in northern Chile (Antofagasta): a genome-wide association study", FONDECYT.
"Nucleotide excision DNA repair proteic expression in bladder cancer: relation to smoking and clinicopathological characteristics".
Clínica Alemana
"A panel of molecular biomarkers as predictors of tumor recurrence and progression in non-muscle invasive bladder cancer".
Publicaciones seleccionadas:
Fernández MI, Parikh S, Grossman HB, Katz R, Matin S, Dinney C, Kamat A. The role of FISH and Cytology In Upper Urinary Tract Surveillance after Radical Cystectomy For Bladder Cancer. Urol Oncol 30(6); 821-4, 2012
Fernández MI, López JF, Vivaldi B, Coz F. Long-term impact of arsenic in drinking water on bladder cancer health care and mortality rates twenty years after end of exposure. J Urol, 187: 856, 2012
Wheat JC, Weizer AZ, Wolf JS, Lotan Y, Remzi M, Margulis V, Wood CG, Montorsi F, Roscigno M, Kikuchi E, Zigeuner R, Langner C, Bolenz C, Koppie TM, Raman JD, Fernández M, Karakiewicz P, Capitanio U, Bensalah, K, Patard JJ, Shariat SF. Concomitant carcinoma in situ is a feature of aggressive disease in patients with organ confined urothelial carcinoma following radical nephroureterectomy. Urol Oncol 30(3); 252, 2012
Liu W, Cao Y, Fernández MI, Niu H, Xiu Y. Additive antitumoral effect of interleukin-12 gene therapy and chemotherapy in the treatment of urothelial bladder cancer in vitro and in vivo. Int Urol Nephrol, 43(3); 721, 2011.
γ-H2AX level in peripheral blood lymphocytes as a risk predictor for bladder cancer. Fernández MI, Gong Y, Ye Y, Lin J, Chang DW, Kamat AM, Wu X. Carcinogenesis. 2013 Nov;34(11):2543-7.