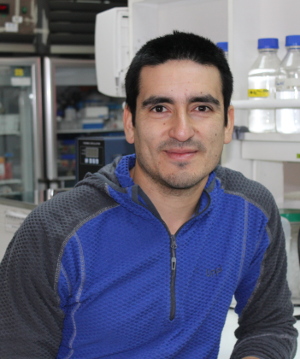 Cristian De Gregorio, PhD
Investigador post doctoral del Centro de Medicina Regenerativa del ICIM. Ingeniero en Biotecnología de la Universidad de Chile con Magíster en Ciencias Mc Biología Celular, Molecular y Neurociencias cursado en la misma institución. Doctor en Ciencias Biomédicas de Universidad de Chile.
Publicaciones
Muñoz-Llancao P*, De Gregorio C*, Las Heras M, Meinohl C, Noorman K, Boddeke E, Cheng X, Lezoualc'h F, Schmidt M, Gonzalez-Billault C. Microtubule-regulating proteins and cAMP-dependent signaling in neuroblastoma differentiation. Cytoskeleton (Hoboken), 2017 Mar; 74(3):143-158.
De Gregorio C, Díaz P, López-Leal R, Manque P, Court F. Purification of exosomes from primary Schwann cells, RNA extraction and next generation sequencing of exosomal RNAs. Methods in Molecular Biology. [Aceptado].
De Gregorio C, Delgado R, Ibacache A, Sierralta J, Andrés Couve. Drosophila Atlastin in motor neurons is required for locomotion and presynaptic function. Journal of Cell Science. [Enviado].
Proyectos de investigación
Combined secretomes from mesenchymal stem cells and keratinocytes has regenerative effects over skin woulnds in two animal models of Epidermolysis Bullosa. Fondecyt Postdoctorado 2020.
Desarrollo de una terapia acelular derivada de células madres mesenquimales para revertir la neuropatía y las ulceraciones en un modelo de diabetes.