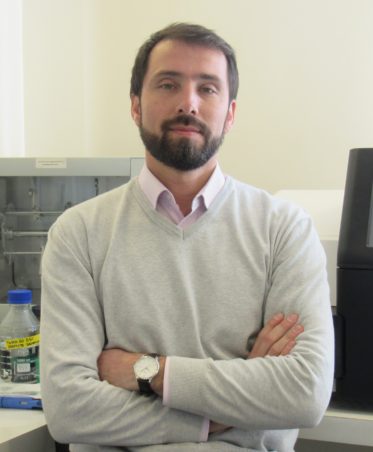 Gonzalo Encina, PhD
Ph.D. Ciencias Biomédicas, Universidad de Chile.
Bioquímica, Universidad de Chile.
Línea de investigación: Genómica de Enfermedades poco Frecuentes.
Intereses.
Mi interés científico y profesional es descubrir nuevos genes y variantes genéticas asociadas a enfermedades poco frecuentes (EPoF) en pacientes chilenos con diagnóstico desconocido, mediante secuenciación de nueva generación de exomas. El análisis bioinformático e interpretación clínica de las variantes genéticas ayudarán a descubrir y clasificar nuevas EPoF en Chile, e identificar genes y variantes genéticas asociadas a cada condición. Buscamos contribuir a comprender mejor los mecanismos patogénicos, a crear herramientas que mejoren la tasa diagnóstica y disminuyan tiempos y costos de diagnóstico, y a  generar conocimiento científico y clínico sobre el perfil genético de pacientes chilenos con EPoF, generando descubrimientos de impacto nacional e internacional.
Interests.
My scientific and professional interest is to discover new genes and genetic variants associated with rare diseases in Chilean patients with unknown diagnosis, by New Generation Sequencing (NGS) of exomes. The bioinformatic analysis and clinical interpretation of the genetic variants will help us to discover and classify new rare diseases in Chile, and identify genes and genetic variants associated with each condition. We aim to contribute to a better understanding of the underlying pathogenic mechanisms, to create tools that improve the diagnostic rate and reduce diagnosis times and costs, and to generate scientific and clinical knowledge about the genetic profile of Chilean patients with rare diseases, generating knowledge of national and international impact.
Publicaciones destacadas
Castro M, Moya-Beltrán A, Covarrubias PC, Gonzalez M, Cardenas JP, Issotta F, Nuñez H, Acuña LG, Encina G, Holmes DS, Johnson DB, Quatrini. R, Draft genome sequence of the type strain of the sulfur-oxidizing acidophile, Acidithiobacillus albertensis (DSM 14366), Stand Genomic., Sci. 12:77, 2017.
Quinones LA, Lavanderos MA, Cayun JP, Garcia-Martin E, Agundez JA, Caceres DD, Roco AM, Morales JE, Herrera L, Encina G, Isaza CA, Redal MA, Larovere L, Soria NW, Eslava-Schmalbach J, Castaneda-Hernandez G, Lopez-Cortes A, Magno LA, Lopez M, Chiurillo MA, Rodeiro I, Castro de Guerra D, Teran E, Estevez-Carrizo F, Lares-Assef I, Perception of the usefulness of drug/gene pairs and barriers for pharmacogenomics in Latin America, Curr Drug Metab., 15(2):202-8, 2014.
Hurtado C, Encina G, Wielandt AM, Zárate AJ, Castro M, Carrillo K, Kronberg U, López-Köstner F, KRAS gene somatic mutations in Chilean patients with colorectal cancer, Rev Med Chil., 142(11):1407-14, 2014
Castillo K, Valenzuela V, Matus S, Nassif M, Oñate M, Fuentealba Y, Encina G, Irrazabal T, Parsons G, Court FA, Schneider BL, Armentano D, Hetz C, Measurement of autophagy flux in the nervous system in vivo, Cell Death Dis., 14;4:e917, 2013.
Torres M, Encina G, Soto C, Hetz C, Abnormal calcium homeostasis and protein folding stress at the ER: A common factor in familial and infectious prion disorders, Commun Integr Biol., 4(3):258-61, 2011.
Encina G, Ezquer F, Conget P, Israel Y, Insulin is secreted upon glucose stimulation by both gastrointestinal enteroendocrine K-cells and L-cells engineered with the preproinsulin gene. Biol Res., 44(3):301-5, 2011.