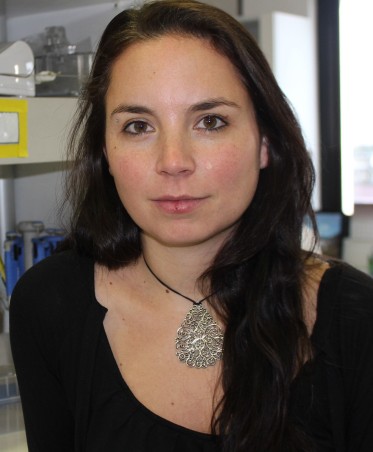 Ignacia Fuentes, PhD
Ph.D. en Biología Molecular, Instituto Max Planck y Universidad de Potsdam, Alemania; Bioquímica, P. Universidad Católica de Chile.
Líneas de investigación: Epidermolisis bulosa y genética humana.
Intereses:
Mi principal interés en investigación es entender los mecanismos moleculares de las enfermedades genéticas. Actualmente estoy trabajando en Epidermolisis Bulosa (EB), también conocida en Sudamérica como "piel de cristal", una enfermedad monogénica y altamente heterogénea, tanto en su genética como en su sintomatología. Mis objetivos son: (1) entender como el genotipo influencia el fenotipo en EB y (2) obtener un diagnóstico molecular preciso, rápido y eficiente para los pacientes chilenos con EB. Para lograr esto ocupo una combinación entre técnicas clásicas de biología molecular, secuenciación masiva (NGS) y bioinformática. La investigación que estoy efectuando se hace en conjunto con DEBRA-Chile, una fundación compuesta por profesionales de la salud especializados en entregarles diagnóstico clínico y tratamiento a los pacientes con EB.
Interests:
My main research interest is to understand the underlying molecular mechanisms of genetic diseases. Currently I am working on Epidermolysis bullosa (EB), also known as "butterfly children", a monogenic disease with high genetic and clinical heterogeneity. My goals are to (1) decipher how the genotype influences the phenotype in EB and (2) to obtain an accurate, fast and efficient molecular diagnosis for Chilean patients. To do so, I am using a combination of classic molecular biology, next generation sequencing technologies (NGS) and bioinformatic tools. The research I carry out is done in tight collaboration with DEBRA-Chile, a foundation consisting of a group of health care professionals specialized in giving clinical diagnoses and treatment to EB patients.
Publicaciones seleccionadas:
Von Bischoffshausen S, Ivulic D, Álvarez P, Schuffeneger V, Idiaquez J, Fuentes C, Morandé P, Fuentes I, Palisson F, Benett D, & Calvo M. (2017) Recessive Dystrophic Epidermolysis Bullosa results in painful small fibre neuropathy, Brian 140 (5) 1238-1251
Fuentes I., Campos M., Repetto G., Morandé P., Yubero J, Gonzalez S., Klausegger A., Schnitzhofer P., Pohla-Gubo G., Bauer J. and Palisson F. (2017). Molecular epidemiology of Junctional Epidermolysis bullosa: discovery of novel and frequent LAMB3 mutations in Chilean patients with diagnostic significance. Br J Dermatol. 176 (4): 1090-1092.

Fuentes I., Stegemann S., Golczyk H., Karcher D. and Bock R. (2014) Horizontal gene transfer of nuclear genomes in plant grafts. Horizontal genome transfer as an asexual path to the formation of new species. Nature 51:232-235.

Fuentes I., Karcher D. and Bock R. (2012) Experimental reconstruction of the functional transfer of intron-containing plastid genes to the nucleus. Current Biology 22(9): 763-771.

Roschzttardtz H., Fuentes I., Vásquez M., Corvalán C., León G., Gómez I., Araya A., Holuigue L., Vicente-Carbajosa J. and Jordana X. (2009) A nuclear gene encoding the iron-sulfur subunit of mitochondrial complex II is regulated by B3 domain transcription factors during seed development in Arabidopsis. Plant Physiology 150(1): 84-95.
Investigador Principal:
2018: «Investigating the role of skin microbiome, host immunity and infection in epidermolysis bullosa wound healing». Financiamiento Fondecyt Regular.
2014: «Determining the genetic basis of Epidermolysis bullosa symptoms through Genotype-Phenotype associations using next generation sequencing». Financiamiento: Fondecyt de Iniciación.
2014: "Caracterización genética de pacientes chilenos con Epidermolisis Bulosa de la Unión: búsqueda de mutaciones frecuentes y desarrollo de un test rápido de diagnóstico." Financiamiento: Fondos Concursables Internos UDD 2014
2014: "Desarrollo de una novedosa plataforma tecnológica para diagnosticar enfermedades genéticas: uso de Epidermolisis Bulosa como prueba de concepto." Financiamiento: Fondos Concursables PMI-UDD
2014: "Implementación del método de inmunofluorescencia para EB: Posicionando a Chile como foco regional en diagnóstico de EB." Financiamiento: Fondos Concursables PMI-UDD
Reconocimientos:
2013 Jeff Schell prize otorgado al mejor estudiante de doctorado del Instituto Max Planck (MPIMP), Alemania.
2012 Summa cum laude en la tesis de doctorado.
2008 Beca de doctorado IMPRS (International Max Planck Research School).
2007 Premio al mejor estudiante de la generación, Bioquímica 2007.
 Afiliaciones
Miembro y Director de la Sociedad de Genética de Chile (SOCHIGEN)
Miembro de la Sociedad de Bioquímica y Biología Molecular de Chile (SBBMCH)
Miembro de la «Society of Investigative Dermatology», USA (SID)