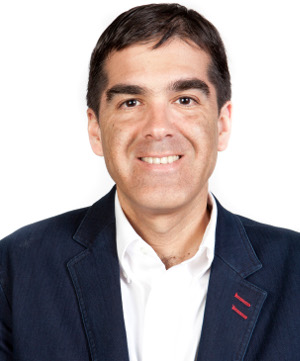 Mario Fernández, MD
Profesor Asociado
Profesor Asociado, Facultad de Medicina Clínica Alemana Universidad del Desarrollo. 

Investigador, Centro de Genética y Genómica 

Urólogo, Clínica Alemana de Santiago 

Médico Cirujano,

 

P. U. Católica de Chile. Residencia de Urología, U. de Chile. Doctoris Medicinae, Universidad de Heidelberg, Alemania. Científico visitante, Departamentos de Urología y Epidemiología, The University of Texas, MD Anderson Cancer Center (EEUU).
Línea de investigación: Cáncer de vejiga.
Intereses 
Soy urólogo clínico con formación y activo trabajo en investigación; mis principales áreas de interés son la susceptibilidad genética, epidemiología, carcinogénesis y factores pronósticos clínicos y moleculares del cáncer de vejiga. 
Interests
I am a clinical urologist with training and active work in translational research; my main areas of interest are genetic susceptibility, epidemiology, carcinogenesis and clinical and molecular prognostic factors in bladder cancer.
Proyectos como Investigador principal
"Determinantes genéticas asociadas al pronóstico clínico de pacientes con  cáncer de vejiga con exposición a arsénico", Clínica Alemana.
"Genetic variants related to presence of bladder urothelial carcinoma in a high-risk, arsenic-exposed population in northern Chile (Antofagasta): a genome-wide association study", FONDECYT.
"Nucleotide excision DNA repair proteic expression in bladder cancer: relation to smoking and clinicopathological characteristics", Clínica Alemana.
"A panel of molecular biomarkers as predictors of tumor recurrence and progression in non-muscle invasive bladder cancer", Clínica Alemana.
"Arsenic- and non- arsenic related Bladder Cancer cell lines", PMI .
Publicaciones seleccionadas
– Fernández MI, Valdebenito P, Delgado I et al. Impact of Arsenic Exposure on Clinicopathological Characteristics of Bladder Cancer: A Comparative Study between Patients from an Arsenic-Exposed Region and Non-Exposed Reference Sites. Urol Oncol (2020) 38(2): 40.e1-40.e7
– Vicuña L, Klimenkova O, Norambuena T, Martínez FI, Fernández MI et al. Post-Admixture Selection on Chileans Targets Haplotype Involved in Pigmentation and Immune Defense Against Pathogens. Genome Biology and Evolution (2020); doi.org/10.1093/gbe/evaa140
– López JF, Fernández MI, Coz LF. Arsenic exposure is associated with significant upper tract urothelial carcinoma health care needs and elevated mortality rates. Urol Oncol (2020) 38(7): 638.e7 – 638.e13
– Vicuña L, Fernández MI, Vial C et al. Adaptation to extreme environments in an admixed population from the Atacama Desert. Genome Biology and Evolution (2019) 11(9): 2468-2479
– Lobo N, Shariat SF, Guo CC, Fernández MI et al. What Is the Significance of Variant Histology in Urothelial Carcinoma? Eur Urol Focus (2020) 6(4):653-663
– Fernández MI, Brausi M, Clark PE et al. Epidemiology, Prevention, Screening, Diagnosis and Evaluation: Update of the ICUD-SIU Joint Consultation on Bladder Cancer. World J Urol (2019) 37 (1): 3-13.
– Huneeus A, Schilling A, Fernández MI. Prevalence of Chlamydia Trachomatis, Neisseria Gonorrhoeae, and Trichomonas Vaginalis Infection in Chilean Adolescents and Young Adults. Journal of pediatric and adolescent gynecology (2018) 31 (4): 411-415
– Fernández MI, Williams SB, Willis DL et al. Clinical risk stratification in patients with surgically resectable micropapillary bladder cancer. BJU Int (2017) 119 (5): 684
– Willis DL, Fernández MI, Dickstein RJ et al. Clinical Outcomes in cT1 Micropapillary Bladder Cancer. J Urol (2015); 193(4): 1129-34
– Fernández MI, Gong Y, Ye Y et al. γ-H2AX level in peripheral blood lymphocytes as a risk predictor for bladder cancer. Carcinogenesis (2013); 34(11):2543-7
– Fernández MI, Parikh S, Grossman HB et al. The role of FISH and Cytology in Upper Urinary Tract Surveillance after Radical Cystectomy for Bladder Cancer. Urol Oncol (2012) 30(6); 821-4, 2012.
– Fernández MI, López JF, Vivaldi B, Coz F. Long-term impact of arsenic in drinking water on bladder cancer health care and mortality rates twenty years after end of exposure. J Urol (2012), 187: 856
– Liu W, Cao Y, Fernández MI et al. Additive antitumoral effect of interleukin-12 gene therapy and chemotherapy in the treatment of urothelial bladder cancer in vitro and in vivo. Int Urol Nephrol (2011), 43(3); 721
– Bolenz C, Ikinger EM, Ströbel P, Trojan L, Steidler A, Fernández MI et al. Topical Chemotherapy in human urothelial carcinoma explants: a novel translational tool for preclinical evaluation of experimental intravesical therapies. Eur Urol (2009) 56 (3); 504-11
– Bolenz C*, Fernández MI*, Trojan L et al. Lymphangiogenesis is induced in upper tract urothelial carcinoma and correlates with lymphatic tumour dissemination and poor prognosis. BJU Int (2009), 103 (8): 1040-1046 *equal contribution.
– Fernández MI, Bolenz C, Trojan L et al. Prognostic implications of lymphangiogenesis in muscle-invasive transitional cell carcinoma of the bladder. Eur Urol (2008), 53 (3): 571-80
Docencia
Pregrado – Docente en Curso y Seminarios de Urología (4to año Medicina).
Postgrado – Docente en Curso de Oncología Molecular, Programa de Diplomado en Oncología General (UDD e Instituto Nacional del Cáncer).
Afiliaciones
International Bladder Cancer Network
International Bladder Cancer Group
Sociedad Chilena de Urología.
European Association of Urology.
American Urological Association.
Deutsche Gesellschaft für Urologie.
American Association for Cancer Research.
Societé Internationale d'Urologie