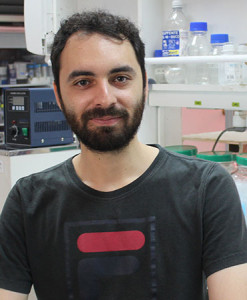 Pablo Berríos, PhD
Bioquímico de la Universidad de Chile con Magíster en Bioquímica cursado en la misma institución. Doctor en Farmacología, Universidad de Chile.
Estadía en el extranjero (2016)
Tutor: Dr. Vasilis Vasiliou. Environmental Health Sciences. Yale School of Public Health, New Haven, CT, USA.
Tema: Study of the effect of ethanol and its metabolites in mice.
Director: Dr. Mario Herrera-Marschitz. Co-director: Dr. Mario Rivera.
Título: An enantiomeric study of salsolinol involvement in ethanol brain reinforcing effect, via the activation of the Gi pathway of µ-opioid receptors. (2018)
Director: Dr. Yedy Israel
Título: Salsolinol e isosalsolinol: productos de la condensación de dopamina y acetaldehído como efectores finales del efecto reforzante del etanol. (2013)
Últimas publicaciones
Berríos-Cárcamo P, Quintanilla ME, Herrera-Marschitz M, Vasiliou V, Zapata-Torres G, Rivera-Meza M (2017) Racemic salsolinol and its enantiomers act as agonists of the μ-opioid receptor by activating the gi protein-adenylate cyclase pathway. Frontiers in behavioral neuroscience, 10. doi: 10.3389/fnbeh.2016.00253.
Quintanilla ME, Rivera‐Meza M, Berríos‐Cárcamo P, Salinas‐Luypaert C, Herrera‐Marschitz M, Israel Y (2016) Beyond the "first hit": marked inhibition by n-acetyl cysteine of chronic ethanol intake but not of early ethanol intake. parallel effects on ethanol-induced saccharin motivation. Alcoholism: Clinical and Experimental Research, 40 1044-1051. doi: 10.1111/acer.13031.
Quintanilla ME, Rivera-Meza M, Berríos-Cárcamo P, Cassels BK, Herrera-Marschitz M, Israel Y (2015) (R)-salsolinol, a product of ethanol metabolism, stereospecifically induces behavioral sensitization and leads to excessive alcohol intake. Addiction Biology, 21 1063-1071. doi: 10.1111/adb.12268.
Quintanilla ME, Rivera-Meza M, Berríos-Cárcamo PA, Bustamante D, Buscaglia M, Morales P, Karahanian E, Herrera-Marschitz M and Israel Y (2014) Salsolinol, free of isosalsolinol, exerts ethanol-like motivational/sensitization effects leading to increases in ethanol intake. Alcohol, 48 551-559. doi: 10.1016/j.alcohol.2014.07.003